Our Team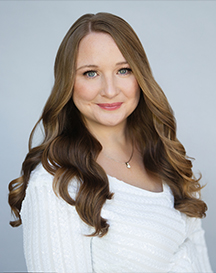 Amanda D. McCordic
Born and raised in New Brunswick, Amanda McCordic graduated from St. Thomas University in 2005, then received her Bachelor of Law degree in 2008 from the University of New Brunswick.
Upon completing her articles, Amanda worked first with the Child and Youth Advocate's Office, before accepting a position with the New Brunswick Legal Aid Service Commission. In August 2016, Amanda left Legal Aid to open her own law firm, McCordic Law & Mediation. Her practice focuses mainly on family law, with the goal of moving people forward after separation in a humane and expedient fashion. While capturing the respect of her clients, she retains a ground-level perspective and proven problem-solving strategies that permit her to view the big picture all while ensuring first-class representation of her clients. Her pragmatic and energetic style persists following resolution, meaning Amanda's clients are provided every opportunity to grow and prosper with creative and long-term solutions. She deals with matters varying from the simplest of mediation to the most complex and sensitive subjects.
In April 2020, Amanda was diagnosed with stage 4 Breast Cancer. After processing the diagnosis, Amanda focused on building a lifestyle that would allow her to give her body every chance to heal. As a part of that evolution, Amanda began learning about Reiki, receiving both weekly sessions and also receiving training. In May 2020, Amanda received her Level 1 & 2 certificate through the International Center for Reiki Training, and in November 2020, Amanda completed her Master Reiki training, and is now a registered Professional Member of the International Center for Reiki Training.
Through her Reiki practice, Amanda primarily focuses on working with clients who are going through a separation or who are involved with the court system. This allows Amanda to help the clients move forward and heal, while also making sound legal decisions.
Amanda is also certified to conduct Reiki training at levels 1, 2 and at the Master level. Classes can be conducted in person at our beautiful office or at other locations of the clients choice.
Amanda now divides her energy between her legal practice and developing her Reiki practice, while continuing to pursue a lifestyle that allows her body to rest and heal. As such, while Amanda is open to consult on any of the files that come through the office, she limits her caseload to 20 active cases at a time.
Amanda has been married to her partner, Matthew Wilson for many years, and together they are raising their son, Ethan and their daughter, Amelia. Amanda and Matthew believe that family and community should always come first, and have committed to being compassionate progressively minded employers and being a positive part of their community.
Jayne A. Veinotte
Jayne grew up on the beautiful south shore of Nova Scotia. She relocated to Fredericton in 2007 where she obtained her Bachelor of Business Administration with an Honours in Marketing and Juris Doctor from the University of New Brunswick. She was called to the New Brunswick bar in 2016.
During her time in university, Jayne became deeply involved in the residence community where she developed her passion for connecting with people, problem solving, conflict mediation and advocacy.
During her legal career, Jayne has had the opportunity to work in both the private and public sectors, having worked in private practice, before serving as Family Crown Counsel and a Crown Prosecutor for the Department of Justice and Office of the Attorney General.
Jayne has extensive court experience in the areas of family and criminal law, and also offers services in the areas of real estate, wills and estates.
Jayne was drawn to Amanda's workplace philosophy, which promotes balance, wellness and self care. She plans to help other businesses better manage their employee relations, having undergone Workplace Investigation training in early 2021, and adding this service to her repertoire.
Jayne enjoys spending time with her partner, watching reality tv and annoying the rest of the office by listening to Taylor Swift all day every day. She dislikes cancer and rude people.
Gwynne Hearn
Gwynne attended the University of New Brunswick from 2009 to 2013 earning her Bachelor of Arts Degree with Honours in Psychology, graduating on the Dean's List. In 2017, she graduated Law School with her Juris Doctor from the University of New Brunswick and became licensed by the Law Society of New Brunswick in June 2018.
Gwynne's career began at Tandem Family Law, a family law firm in Moncton, NB, where she completed her articles and started practicing law. This experience reinforced Gwynne's love for helping clients manoeuvre difficult and emotional situations with their best interests, both legal and financial, being the top priority. Although Gwynne enjoyed her time in Moncton, she craved the opportunity to pursue practice criminal law.
Gwynne first became interested in criminology during her undergraduate degree where she studied the interplay between human behaviour, crime, and mental health. In Law School, Gwynne's favourite courses were criminal law based. It was this passion that brought Gwynne back to Fredericton, NB when she joined The Burke Law Group in October 2018. During her time as an Associate with The Burke Law Group, Gwynne's practice focused on family and criminal law matters where she had the opportunity to learn from some of the Province's top defence lawyers.
In June 2019, Gwynne furthered her career when she transitioned into the role of a Crown Prosecutor working in the Fredericton office. Gwynne took advantage of the unmatched opportunity to hone her litigation skills and to gain exposure to a vast array of criminal charges. This experience taught Gwynne to think quickly on her feet while in the courtroom prosecuting her files or reaching a resolution prior to trial. Although she enjoys the fast-pace environment of the courtroom, Gwynne missed being able to provide legal advice to clients. Gwynne was thrilled to re-enter private practice joining the McCordic Law team in January 2021.
Gwynne's practice focuses on criminal defence and family law. Gwynne enjoys files of various complexities with her purpose being to provide the best possible solution for her clients. Gwynne takes pride in ensuring her clients feel understood and works closely to explain every step in the process to help ease the stress and anxiety that can often accompany navigating the legal system.
Teresa D. Hamilton
A paralegal is not a lawyer but a person who is trained in legal matters. They quite often perform routine tasks that require a robust knowledge of the law and its procedures; however, all of their work is performed under the guidance of a lawyer. A paralegal is not allowed to offer any legal advice or services directly to the client.
We would like to introduce to you our paralegal, Teresa Hamilton. Teresa has almost two decades of experience in the legal profession in New Brunswick and Manitoba. She assists in all aspects of file management, including drafting documents, preparing applications and motions, gathering, and compiling material, communicating with our clients. Her jedi-like anticipation has been an additional benefit to the firm.
Teresa is also our office manager and a Commissioner of Oaths. She has developed an eagle eye for inefficiencies and can refashion for a sleeker, smoother, and strategically focused organization. Her unparalleled flexibility and ability to multitask different aspects of the law practice and office has turned her into an office ninja! She develops, implements, and preserves firm policies and procedures and maintains accounts payable, receivables and monthly billings.
While her family is now living in NB, her and her children spent the majority of their time in Manitoba while her ex-husband was employed with both CFB Winnipeg and CFB Shilo. Through her experiences as a military wife, Teresa has gained many unique qualities, enabling her to assist her lawyer and increase the scope of services that McCordic Law & Mediation provides. Teresa is able to answer important day-to-day questions regarding your file and manage file costs effectively. She is highly motivated, passionate about the law and helps the team dream up cool ideas and puts them into practice by arranging the right resources.
Outside of work, Teresa enjoys spending time with her three adult children, going on long walks, and discovering new and exciting places to eat. She is an amateur pop culture historian, delights in watching movies and is not afraid to colour outside of the lines.
Sarah MacAllister
Sarah considers Fredericton, New Brunswick home but Nova Scotia is near and dear to her heart, where she spent her childhood and frequently visits family and friends. Sarah returned to Nova Scotia twice in her adult years to pursue education and career opportunities but gravitated back to the beautiful City of Fredericton where she is now settled with her husband, young child and two fluffy cats.
Sarah is a graduate of Fredericton High School and was fortunate to have had the opportunity to take a Law course in high school. Although Law & Order and Judge Judy were commonly viewed tv shows, this course is what piqued her interest in pursuing a career in Law. Sarah achieved a Legal Assistant/Paralegal Diploma with Honours from the Atlantic Business College in 2010.
Prior to her career in Law, Sarah enjoyed making connections with individuals and the hustle and bustle that comes with the customer service industry, whether it be a server at a restaurant, a receptionist at the local campground or a supervisor at a clothing store. Sarah strives to provide exceptional and thoughtful service to each client she interacts with. The fast-paced industry gave her valuable experience with clients and fostered a strong work ethic and adaptability.
Following completion of the Legal Assistant/Paralegal Diploma, Sarah joined one of the largest Atlantic Canada Law Firms, Cox & Palmer, where she commenced as a general administrative assistant and transitioned to a Foreclosure/Property Paralegal. In 2017, Sarah decided it was time to explore the smaller law firm environment and the diverse areas of law at The Burke Law Group.
While on maternity leave Sarah's focus and goals changed with her growing family in mind and the job opportunity at McCordic Law & Mediation presented itself at just the right time. Sarah was enthusiastic to join the passionate, genuine, and hardworking team, aligning with her Enneagram 9-1 personality, the Peacemaker/Perfectionist.
Outside of the office, Sarah enjoys spending time with her family, catching up with friends, enjoying local restaurants/lounges and planning her next sunny trip. She is passionate about her health and fitness and inspiring others with their health and fitness journeys.
Monica Rowe
Monica is delighted to be articling with McCordic Law & Mediation. Born and raised in Fredericton, New Brunswick, Monica received her Bachelor of Arts (Honours) in Anthropology from Western University in London, Ontario. She decided to return to her hometown and continue her education at the University of New Brunswick, Faculty of Law.
Throughout her undergrad and Law school, Monica wanted to make a difference in her community, she did this by balancing volunteer work, work, and her studies. Whether helping as a peer mentor or volunteering with the Fredericton Legal Advice Clinic and with Pro Bono Students Canada, Monica had a way of connecting with anyone she came in contact with. In addition to her volunteer activities, she worked as a crisis intervenor with organizations focused on mental health and intimate partner violence. She also held a position with an organization focused on sexual violence.
With this, Monica has completed additional training in the areas of mental health, sexual violence and intimate partner violence, giving her a deep understanding of various complex issues.
In her spare time, Monica enjoys cooking, skiing, hiking, drawing and painting. In addition to her active lifestyle, Monica enjoys spending time with family, friends, her gecko, cats and the family dogs.
Dumouchel Dispute Resolution
COMING SOON